My computer's battery died suddenly yesterday. I'm running the laptop on AC adapter only, which is fine, but it means I can't go anywhere with it until I get a new battery.

It took me a while to figure out what was wrong. Much swearing ensued. This Chief O'Brien gif from Swear Trek (Twitter and Tumblr) sums up my day, minus the kicking. Sure felt like kicking, though.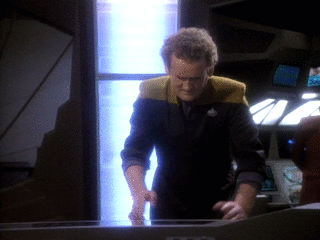 I'm sure if Deep Space Nine had been on HBO, O'Brien would have cursed every other word. Bloody Cardassians!